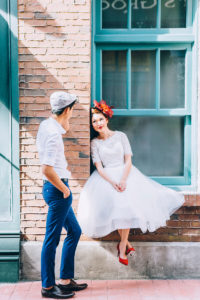 People often love having photographs taken that commemorate special occasions or major things that are happening in their life at that moment. It may be a big birthday party or a graduation from high school or college, or an engagement/wedding. What you may not consider is that instead of plain photographs or photos in exotic locations, you can make it appear as though it happened in a different time. These retro photos are designed to remind us of simpler times. They can be fun to put together and look amazing when finished. Therefore, we are going to give you a few ideas that you can use in your own favorite retro photo shoots.
Why Retro Rocks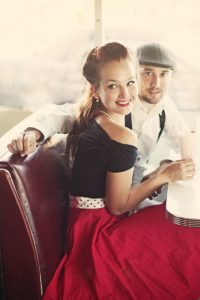 When we think of retro ideas, we often think of poodle skirts and old-fashioned diners where teens go to hang out and sip on soda in a frosted glass. That idea is not too far off the mark. It was a simpler time that was enjoyable for everyone who lived in it. The cars were cool, the clothes were fun, the colors were bright, and the foods were amazing. It may seem impossible to go back in time to when you could enjoy those things, but it isn't as far away as you may think and a lot of couples are choosing to use retro or classical items to set the stage for their future.
Simple Times Renewed
To some brides, there is nothing more beautiful than traditional weddings. They love the black and white photos or those with a pop of color while they are wearing white. In times past, this was the easiest way to get the vintage appeal in wedding or engagement photos. Now, though, people are adding props that take them back in time. Some even go so far as to bring food trucks to the weddings and therefore have some very creative ideas for their photo shoots. For instance, they may know someone who has an old '57 Chevy or a 1965 Airstream Caravel that has been restored and they include it in their photos. They may have a photographer set up a diner scene. They use hair styles and clothing styles that reflect the chosen time period.
Classic Ideas for Retro Appeal
There are numerous ways that you can find ideas for creating a retro style for yourself. A simple web search can reveal numerous ideas and there are places that allow you to purchase clothing from a simpler time. When looking you will notice that red was a very popular choice for ladies. Red lipstick and red with white polka dots on their dresses were extremely popular as were the poodle skirts in pink and white. When creating a vintage photo, you should have clothing that pops in front of a softer colored background. This will make the couple in the photo stand out. The poses that a couple or even a single person should use, will need to be casual and perhaps romantic in its simplicity. A touch on the chin, a flirty conversation, or other ideas will finish creating the perfect photo.